CRITHINKEDU
2016 – 2019 (Hana Lorencová, Eva Jarošová/ Erasmus+)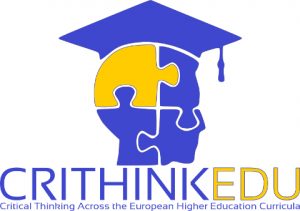 Funded by the European Commission under the Erasmus+ Programme, the 'Critical Thinking Across the European Higher Education Curricula – CRITHINKEDU' project arises from the background and experience of European Higher Education Institutions, business corporations and Non-Governmental Organisations, and their ongoing concern to improve the quality of learning in universities and across different sectors, which converge in a common need on how to better support the development of Critical Thinking (CT) according to labour market needs and social challenges.
CRITHINKEDU creates an opportunity to foster dialogue among relevant actors in a joint industry-university forum, with continuous effort to align learning outcomes with real world challenges. It also allows the implementation of a model of CT teaching and learning activities transnationally in the various partners' courses, and the consortium works as a network to promote CT education around Europe. This internationalization of CT curricula aims to be an effective way of providing an academic environment that supports the diverse cultural learning needs of international students.
More information about the project here, including outputs.